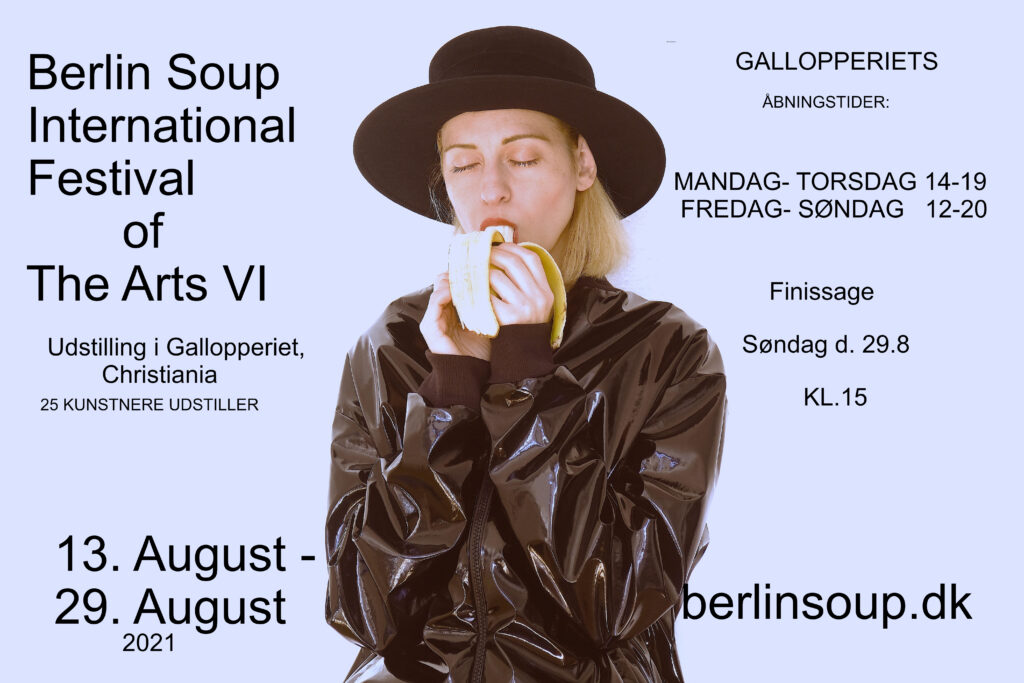 Glæd dig til en smuk buket af eksperimenterende musik, udstillinger, oplæsninger, performances, film og foredrag.
Enjoy – peace & love
Jesper Dalmose og Lennox Raphael, kuratorer
Co-kuratorer (musik): Kristian Tangvik, Jørgen Teller, T.S. Høeg og Olga Magieres.
Bemærk: Udstillingen i Gallopperiet er forlænget til 29.august. Åbningstiderne efter den 20. august er:
Fredag, lørdag og søndag 12-19, mandag – torsdag 14-19.
Hold øje med events i Gallopperiet 20.-29. august
Berlin Soup program (opdateret den 25. august 2021)
Søndag d 29. August kl 15-18 
Finissage 
Gallopperiet , Christiania 
15 -15.45
Freetown Social Club
16- 16.45 
Overtoner
Skye Løfvander and Sandipan Chatterjee
16.45
In memory of our brother, Graphic designer  and partner Kenn Clarke.
Lennox & Jesper
Kontakt:
Mail: jesper7dalmose@gmail.com Mobil: 22 36 49 05
Mail: lennox.raphael@gmail.com Mobil: 41 43 73 86